I've been stinky a fair bit through my holiday, and am back to work tomorrow morning… kinda, I will be fully back Thursday as I only have 1 shift Tomorrow.
I realize I've not been keeping everyone here updated as far as as my stinkyness… but I wanted to give a little bit of time after the hack that happened… More info here on that one.
That being said, here's how my last few days have been, mushiness wise…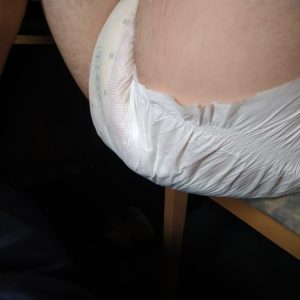 This is my 2nd to last diaper for my holiday, and I was kinda proud at how much I filled it hehe, but hadn't posted it 'cuz I wanted to make sure my site stayed secure.
I went to bed wet the night before and ended up spending the majority of the day both wet and stinky… It did eventually get to my nose enough to change though.
Now I confident my site's nice and safe again, I decided to document my last one of the holiday.
I decided to wear one of my Tykables Galactics, and thought I'd ask a bit of a silly question to peeps over on Telegram…
I thought it would be amusing to ask if My padded booty was bigger than Hopps' hehe.

I honestly should've guessed that I would end up winning this, these are some thick diapers.
I ended up spending most of the day soggy in this diapee, almost to the point of wondering if I'd even end up needing to go poopy.
As the day progressed, I did finally end up needing to go… So I grabbed my phone and though I'd record it, I also boosted the volume for you to make it easier to hear.
I also added a little more to it afterwards, and ended up with a rather bulging rear by the time I changed as you can see below.
All in all I enjoyed my holiday, and though I don't want to go back to work tomorrow, at least it's only a single shift to get me back in the swing of things.
Again I'm sorry for the lack of updates during my holiday, but with needing to fix my server, I just didn't want to take any risks.
I'm just glad it's all good now, and I hope you all enjoyed this post… I always feel bad when I don't keep ya'll in the loop.
With that said, I think it's about time for me to end this post before I begin to ramble… Have Fun, & Keep Crinkling.