After the issue that happened with my host, my site got rolled back to before my reviews more info here… I've decided to re-make them in a single post for those wanting to view them… so without further ado, here are my reviews.
When I 1st saw these diapers, I fell in love with them instantly… maybe 'cuz my fursona's a bunny but still you can not deny the cuteness.
The 1st thing I noticed when putting these on is that the 2 Tabbed system can be a bit tricky to use at 1st.
These diapers use a hook system for their tabs, allowing for easy re-adjustment and tightening, they will only attach to the panel though, and sport an adorable purple absorption strip as shown below which is an awesome addition in my opinion.
While testing these diapers, I decided to do a few tests, 1 of which was to test comfort for being out and about… I did this by walking to the local shop to pick up a snack.
All in all these are remarkably comfortable, though do cause a bit of a waddle walk.
My next tests were for overall usage, such as absorbency & soiling …
I decided to test my 1st wetting while sitting down, and letting my bladder out fully.
As you can see by this GIF, it shows through a fair bit, but got fully soaked into the diaper in a matter of seconds, making these awesome for the larger wettings.
I did however notice the lack of a wetness indicator, but that was a non-issues for me as I tend to yellow the diaper when wetting… Though having the blue stars fade would have been a nice touch.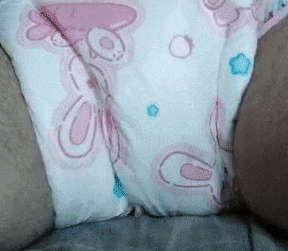 I ended up wetting around 3-4 times, with a minimal leak on my leg hole (This was mostly from poor PP positioning my side)… When it comes to soiling they can take a large load as well, and hold up well even when sitting.
I ended up sleeping in these and they held up well during the night, though I did need to tighten in a little in the morning as the top had loosened a bit…
This is slight flaw of 2 tabbed diapers, as with 4 tabbed ones you can angle them in slightly for better snugness.
TL; DR: These diaper are really adorable (be it lacking a wetness indicator), comfortable to wear, with a slight waddle, take a decent amount wetting & soiling, though the 2 tab system takes a little bit to get used to… I would recommend for those wanting to try out a 2 tabbed diaper with a lot of cuteness.
There diaper are super cute, and feature an overall space theme with adorable animals, and blue accent on the sides.
The 1st thing I noticed while putting these on, is the absorption strip, that reaches right to the rear on the diaper, making these really good for heavy wetters.
Similar to the BunnyHopps these use a hook style tab system, only with 4 tabs rather than 2, thus allowing for a really snug fit, that honestly felt like I was wearing a cloud… While wearing these I did a few tests like I did with the other.
My 1st test was a wetting one as I needed to go before bed, As you'll be able to see from the pic, it absorbed fully while laying on my tummy…
This also revealed the now missing stars, that double as a wetness indicator, an adorable touch.
The next morning I needed to go shopping ans since it was still holding up very well, barley needing adjusting, I decided to keep it on to go to town… Much like the BunnyHopps they cause a bit of a waddle, I might even say slightly more of one, but are amazingly comfortable to walk in.
When I returned home I continued wearing them though out most of the day, and ended up wetting them 4-5 times with no signs of leakage.
I also did a large load in them that was kept in place very snugly as shown in the pics below… These are ordered throughout the day.
TL; DR: These are really cute, and fantastic for heavy wetters and those who wish to get the most use out of their diapers… they do cause a bit of a waddle walking, but the cute rockets, animals, and dispersing stars are definitely worth it, and are a very strong recommendation.
I hope you enjoyed my reviews, even after I had to re-write them after that annoyance of a server issue making them poof… But with my mini rant out of the way… Have fun & Keep Crinkling!