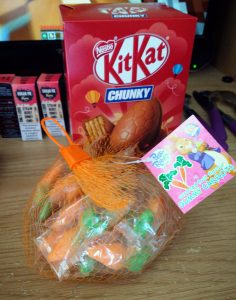 Easter is almost here… I'm looking forward to it 'cuz I'm a chocoholic, and as you can see I've already gotten myself an Easter Egg, I opted for KitKat Chunky 'cuz they're yummy!
I just want to throw this out there, I'm not religious in the slightest, but love Easter for the chocolate eggs, candy, chicks, & of course I can't forget bunnies too!
But yeah, as I said before I'm looking forward to the day, and I'm also on holiday then too, so that's a plus… One of the upsides to working in a school is definitely the holidays.
I should be making a new diapee post come friday, so keep your eyes out for that… And with that said, have fun, and keep crinkling!