I'm going to start with the one ya'll like the most, being the mushy padding…
I haven't been padded super lots over the week, only a couple of times actually, one only ended up wet (The pics of that one will be in my Gallery).
With that said, I did end up doing a big poopy today hehe, Here's a pic.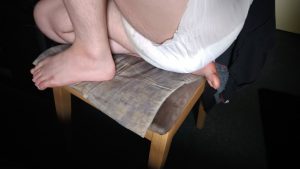 Next on my little list of topics is about some Commissions I got…
The 1st is still in the works and it being done by OverFlo207 and is of me and my friend Xevy In a Tandon Mushy Diaper… The SFW (Patreon Version) of which is available to view on Flo's Patreon here, The completed Pic will have Full Color, Mushiness, Connected Padding, and be on balled up diapers (rather than pillows).
The 2nd one is a sticker commission, I decided to go back to Vlue for them since I like the 1st ones I got soo much…
I requested 4 Stickers, Listed Below
Blushing
Facepawing (Facepalming)
Booping a YCH on the head with an inflatable ban hammer
Sleeping, cuddling my plushy carrot (Gave ref pic of Carrot-Top)
All in all I love how these turned out hehe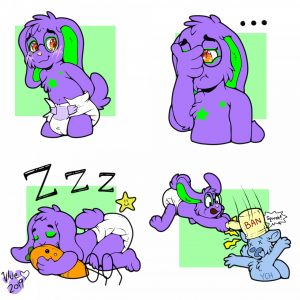 My next part make me kinda sad, 'cuz I'm back in work tomorrow morning, I'll be starting the "Deep Clean" for 2 weeks before the school I clean goes back… I'm both dreading this, and excited…
I'm dreading it 'cuz I've not done a deep clean there before, so I don't know how bad it will be… And I'm excited because unlike my old workplace, the whole deep clean is paid extra so the more I work, the more spending money I get.
Anywho, That's about it for this update post, I shall see ya'll later…
Have fun and Stay Stinky!